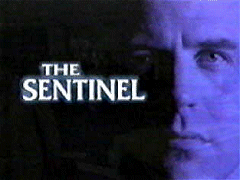 Welcome to the Wiki
Edit
Welcome to the wiki. We're a collaborative community website about your topic that anyone, including you, can edit. Click the edit button at the top of any page to get started!
About The Sentinel
Edit
The Sentinel is an American television series that aired on UPN in the United States from 1996 to 1999. Filmed in Vancouver, British Columbia, It premiered on March 20, 1996, and ran for 65 episodes (three and a half seasons). The series later reaired on Syfy.
Jim Ellison was a US Army Ranger who spent 18 months in the Peruvian jungle after his unit was killed. During this time, he developed hyperactive senses, but managed to repress them when he got back to civilization. However, they came back online five years later, when he did an extended stakeout in the forest as a detective in Cascade, Washington PD's Major Crimes Department. When he goes to the hospital to see a doctor, he finds instead Blair Sandburg, an anthropologist from Rainier University who tells him that he's a Sentinel. In ancient tribes, Sentinels protected the village. For Jim, Cascade is his village. Blair has been studying Sentinel mythology for years, but he had never before found a person with all five senses enhanced, a true Sentinel.
Blair helps Jim control his senses and joins Jim as a police observer. To the surprise of many people, this unlikely partnership works and together they fight against crime in the streets of Cascade.
Jim's hyperactive senses mean he can see beyond what others see, even in the dark, and with more detail; hear sounds that are farther than normal range or too low for anybody else; sense what nobody else can with taste, touch and smell, in short becoming a walking forensic lab. But Jim's powers have a drawback: if he concentrates too strongly in one sense, he "zones out", becoming too focused to notice his surroundings or perceive anything else besides his target. Part of Blair's job is preventing the zone outs and watching Jim's back when he is focusing.
The only person who knows Jim's secret, apart from Blair, is his captain and friend, Simon Banks. In the last half season, Australian Exchange officer Inspector Megan Connor learns his secret as well.
Media
Latest activity
Edit